Sheet and Linear Cutlist Optimizer
Disposal of remnants is a loss!
Do you have trouble making cutting plans for plates and bars that look like a puzzle? We calculate highly efficient cutting layouts for plywood, steel plates, acrylic, steel, and more.
Free for 30 days. Unlimited functionality.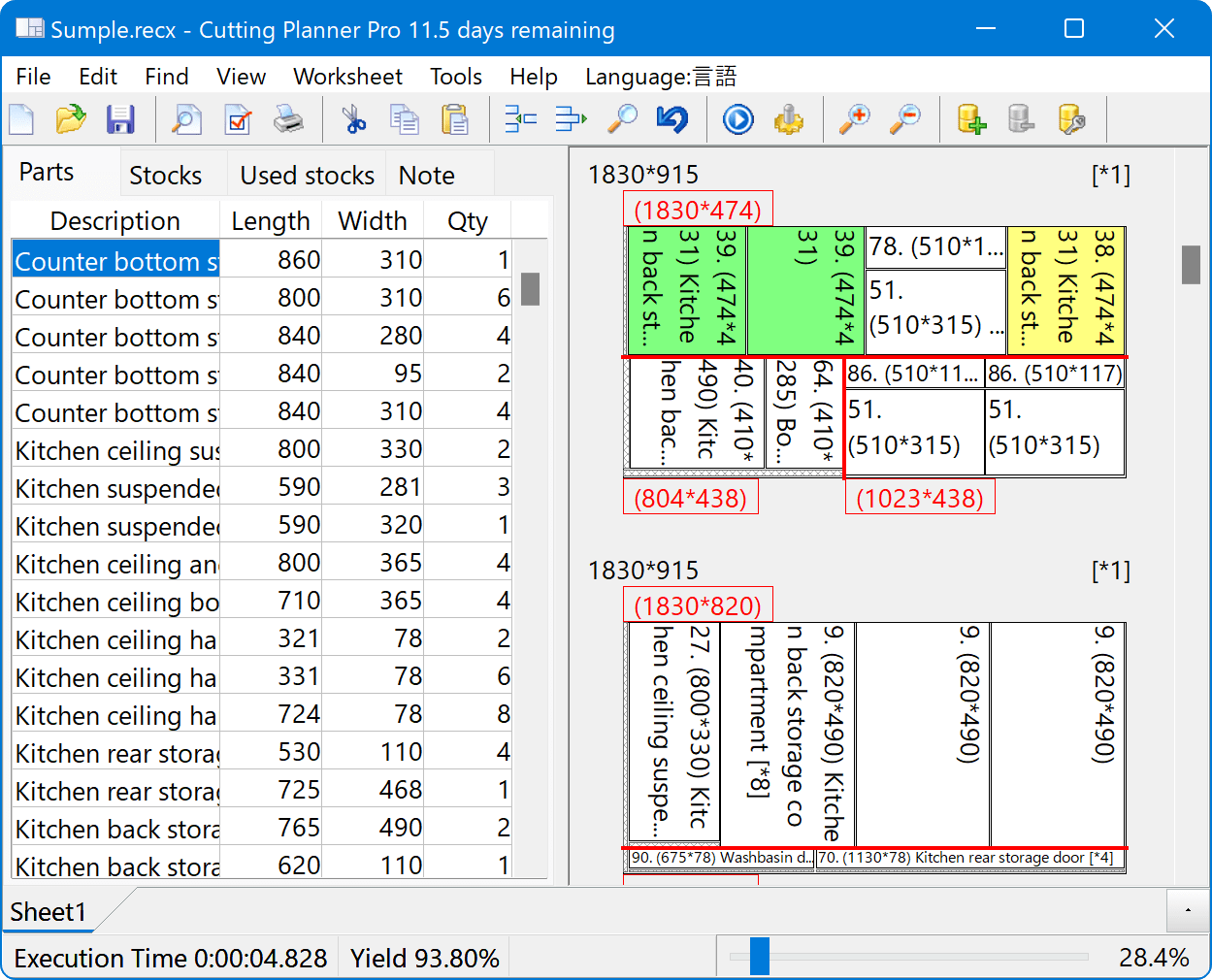 August 20, 2023 Version 12.14: Compatible with Windows 10 and 11.
Trial is not available in a f environment.
Version upgrades can also be downloaded and overwritten installation from here.
Cutting Planner is used in a wide variety of situations, from small workshops to well-known companies.
Cutting optimization for both sheet and liner in one solution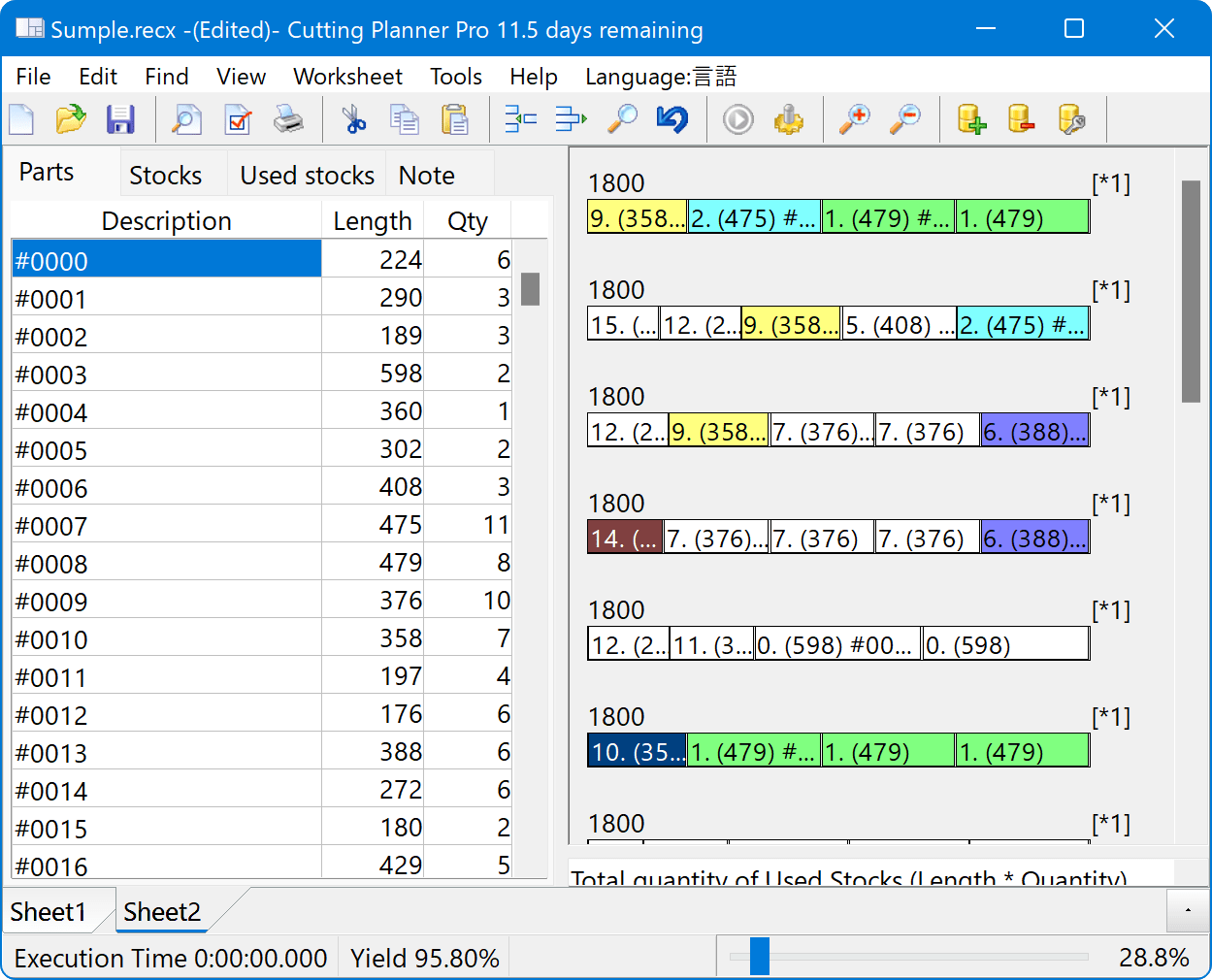 Layouts can be calculated to efficiently cut not only plates, but also bars, pipes, tubes, and other long materials. While other companies usually offer separate products, Cutting Planner is compatible with both.
What is Cutting Planner?
CuttingPlanner is software that arranges multiple parts to be cut from acrylic plates, plywood, aluminum plates, steel plates, and other base plates using panel saws, running saws, shearing, and other methods. It is used in furniture manufacturing, steel plate andsheet metal processing, and a wide range of other fields.
Simply by inputting the base plate and material sizes, the software proposes a highly efficient cutting plan.
Calculation results can be viewed on a PC screen as a cutting layout diagram, which can be printed out for use as a drawing. It can also be used for estimation.
Free version upgrades with perpetual license
Reduces tasks that used to take hours by hand to mere seconds
With Cutting Planner, you don't need a craftsman to create a cutting plan. Work can begin immediately, eliminating the time it takes to think about the layout.
Multi-core processor support maximizes PC performance.
Reduce materials, time, waste, energy, and administrative costs
It is not only materials and time that can be saved. There are synergistic cost savings.
Let's invest in intangibles.
Interfacing with other software
Automatic calculation and input/output using command line options. There is an example of linking with an inventory control system.
Adopted xml format for proprietary data format. Its specifications are available to the public. We can develop our own software to utilize the output cutting layout diagram.
Input/output in CSV format.
Copy and paste with spreadsheets such as Excel.
Sensible operation and full range of basic functions.
Intuitive user interface.
Individual setting of whether or not a part can be rotated.
Arrangement of the saw blades with respect to their size and the maximum cutting length of the cutting machine.
Cutting guide lines for easy identification of where to cut.
Printing of the cutting layout.
Offline operation is possible after purchase.
Version upgrades are free of charge
Buy once, use forever. Free version upgrades and zero maintenance costs.
The earlier you start using it, the longer you use it, the more you save and the more profit you keep getting.
Supports large problems
The types and number of substrates and members that can be calculated are virtually unlimited (memory dependent).
When multiple sizes of base plates are set, members are automatically assigned for efficiency.
Case Studies & Customer Testimonials.
The following are excerpts from actual customer comments received via e-mail or other means. We are sometimes informed of errors or problems, and each time we make improvements, the reliability of the system is further enhanced.
It is easy to use and helpful.
You have been very kind to us, even though we have not even purchased the product.
It is a very useful software and we are grateful to use it.
I am satisfied with the calculation speed and results.
If we utilize the software, we are sure to increase the yield of boards.
This software is very wonderful and easy to use, and after reviewing it in our department, we have decided to use it.
We use it to cut out thin SUS sheets.
What used to be done manually can now be done in a short time!
Best cost performance.
We use the command line option to link with inventory data.
I am impressed that a task that used to take several hours is now done in seconds.