Sheet Properties and Add Sheet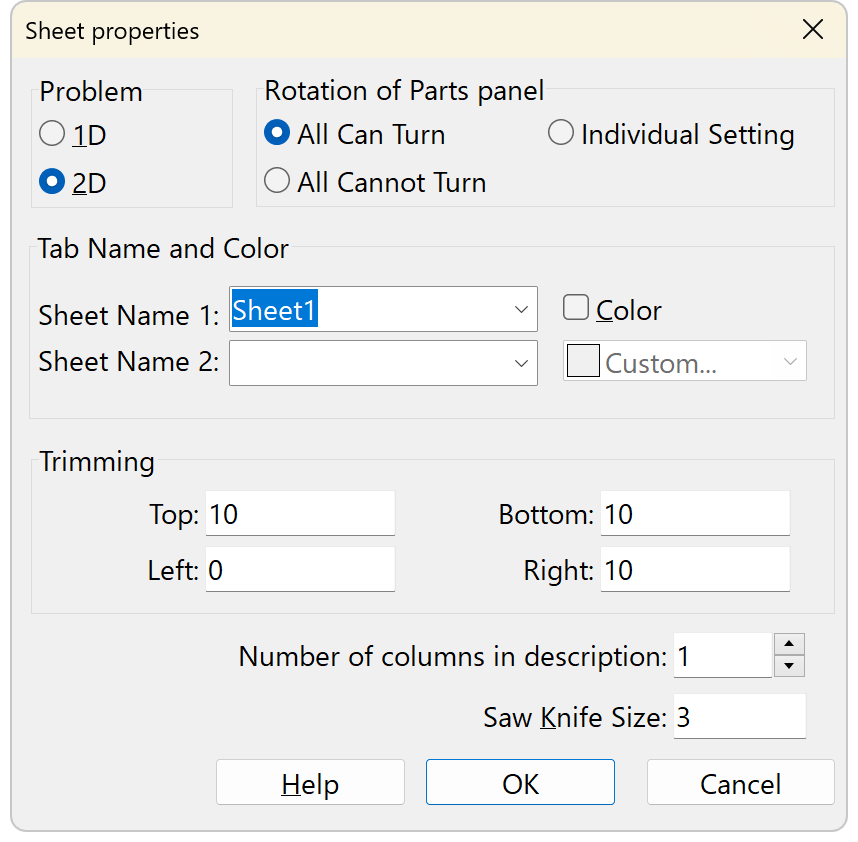 Menu: [Worksheet]-[Add Sheet] and [Worksheet]-[Change Sheet Properties]
What is a sheet?
Spreadsheet software can handle multiple worksheets, similar to the way a spreadsheet can handle multiple worksheets. Multiple types of materials and thicknesses of sheets can be managed together in a single file.
The data for a single sheet can be saved as an .XML file. They are compiled into a .RECX file.
Material / Thickness
There are material name and thickness items as names to give to the sheet. For example, "18 mm plywood". [Frequently used names can be registered in the "List of stocks panel types" in the "Options" window. Thickness is also managed as a string. Therefore, it is possible to add units to it. Also, the numerical value you enter for "thickness" does not affect the calculation.
Problem
Specify whether the calculation is for a long piece (1D) or a plate (2D). If data has already been entered, switching between 1D/2D is not possible. This is handled by adding and deleting sheets.
Rotation of parts pane
Specifies whether parts panels can be placed in different orientations when the optimization problem is 2D. If you select "Individual Setting," a checkbox will appear in the parts panel list. Please note that if you change this setting from "Individual Setting", it cannot be undone.